"You seem like you can handle a lot of pain. Like, maybe you could handle some kind of pain related difficulty setting, huh?"
―Terry Hintz
Pain Mode is an extra difficulty setting designed as the game's hard mode. It is recommended that players play through Normal Mode at least once before utilizing this setting. Pain Mode includes more difficult elements as well as additional content that cannot be seen in Normal Mode. This includes expendable Save Crows, different enemies, new areas, and a secret ending.
Activating Pain Mode
Edit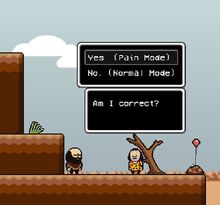 After saving Terry from Cheese Legs he will claim that you look like someone who can handle a lot of pain, even some pain related difficulty setting. Then 2 options will appear. Choosing no will let the game proceed in Normal Mode. Choosing yes will activate Pain Mode.
Saving the Game
Edit
The most notable element in Pain Mode is that Save Crows will now explode after being used. This means you can only use each save point once. Be warned though that Save Crows will still explode even after you exit the save menu without saving.
At the Nice Neighborhood the Joy Mutant that has a save crow on his head has been removed.
To a more humorous effect, the Rando soldier past Wally's building, who is dressed in a crow shaped cloak, will also explode if you talk to him to save.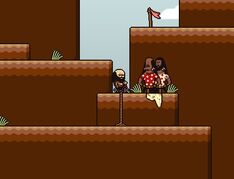 While playing in Pain Mode there are new mini-boss battles to encounter, as well as some that have changed quite significantly from Normal Mode.
At the entrance to the EWC, a dual gun wielding enemy named Tex Diablo blocks your way.
On your way to the Mint Cloth in Hollywood, you will find that Hawk has transformed into a Joy Mutant.
A new Joy Mutant named Herb appears in Area 3 in the tunnel the leads to the Snow Mountain.
New Areas
Edit
In Pain Mode the player has access to the Joy Lab, which is an area in the Nice Neighborhood that was previously locked tight in Normal Mode.
Secret Ending
Edit
As mentioned above Pain Mode also features a hidden ending that plays after the usual cutscene after the credits roll. It should be noted though that this ending will override the Joyful and Joyless endings. Any player who has yet to get either of those two endings must play through the game in Normal Mode.
Community content is available under
CC-BY-SA
unless otherwise noted.