Rage Ironhead

An energetic luchador who disregards his own safety for the sake of style. Attacks with his head.
Party Member
Full Name
Rage Ironhead
Nickname
El Rage
Class
Luchador
Gameplay
Equip Types
Weapon Types
Wristband
Armor Types
Accessory / Shawl / Mask
Skill Types
Skills
Traits
Target Rate
100%
Evasion
5%
Hit Rate
95%
Crit Chance
4%
Features
Rage * 40%
"Yoooo! What's happenin' my man?! You gotta couple of mags for me? I'll run with your pack brother!"
―Rage Ironhead
Rage Ironhead is an energetic pro-wrestler known for his devastating Headbutts. Rage Ironhead always puts the battle first and his health second. He has high speed and attack, but somewhat low defense. He is the creator of 'Ironhead Lucha Libre'.
Background
Edit
Name: Rage Ironhead
Fighting Art: Lucha Headbutting
Past Occupation Luchador Hero
Likes: Listening to Music
Favorite Food: Green Chile
Most Hated Thing: Wasted Time
The founder of Ironhead Lucha Libre. He lives to soar. Although he is a hit with the ladies, his only true love in life is the ring.
Appearance and Personality
Edit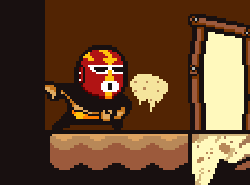 Rage Ironhead is dressed as a Luchador wrestler, complete with a title belt and mask. He is very energetic and is usually found fighting whilst chanting lines such as 'Elllllllleleleleleleleleeeee!'.
If Brad faces Rage Ironhead during the endgame, he states that he never liked Brad, and was only in it for the girl. Taking from this dialogue, Rage Ironhead appears to share the same perverted, depraved ideals as most of Olathe's men. Although he does cry and hesitate during the battle making it a possibility that El Rage was lying to help Brad cope with the battle better.
How to invite to Party
Edit
Rage Ironhead is located in a bar in the Mountains found by going through the bottom left door in the Crossroads, under the word 'Let's' in 'Let's find her'. When spoke to and given 70 magazines, he will join Brad's party.
Rage is a strong party member who is one of few that have the ability to use combos. Rage's main quirk is using a series of headbutt related moves to deal powerful damage to the enemy. Overall his attacks alone do average damage, but when coupled with his combo abilities it can all add up to deal some massive damage.
The drawback to Rage though is that he's not real varied in attacks; each new skill he learns is just a more powerful variant of the last. Coupled with his weak defense and rather lacking HP he is not very capable of taking a lot of hits. Overall if you want a bonafide glass cannon for your team then Rage has got you covered.
When used, the above skills will deal individual damage, as well as the damage of the relevant skill (if completed)
Statistics
Edit
Statistics analysis
Core Statistics
Level
HP
SP
ATK
DEF
SATK
SDEF
AGI
LUCK
2
383
84
16
12
12
12
42
41
Battle Quotes
Edit
Win Quotes

Edit

Level Quotes

Edit

Drop Quotes

Edit

WOOOOOOOO!!!
My head is iron! IRON BABY!
Elllllllleleleleleleleleeeee!
Default Equipment
Edit
Rage made his first appearance in sacrifice trailer. He is seen hanging around with Brad, Hawk and Olan. After Brad is surrounded by enemies, he is seen lying dead with a spiked club stuck on his head.
There are unused sprites of Rage preforming a giant swing, as well as him being tied up and attached to an arrow, these sprites were likely meant for team attacks, a scrapped game mechanic shown in this clip from one of the Lisa Trailers