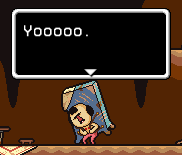 Due to the rarity of mags in
Olathe
some men have taken up roles as travelling salesmen, barkeeps, and town stores.
The most commonly seen man is named Chester who wears a pair of trousers and a chest of drawers on his back. He can be found around many areas of the game and can be used to buy powerful weapons, healing items and sell items you no longer require.
Lisa The Painful Locations
Edit
LISA THE JOYFUL
Edit
Like Painful, there are shopkeepers that can sell items to Buddy. Chester and the Bar will sell various healing items. Without wearing a mask, Chester will attack you but can get 256 mags for defeating him. Beware that Chester can become a mutant after few points and you unable to buy and sell items anymore from him and you only get 3 joy, the only way to buy items after this is at the bar. However, if you enter the bar without a mask, the bartender Ronald Frontier will fight you and upon defeat, he will only drop 22 mags. It is recommended to sell your perfumes and leave some fancy perfume in-case before fighting the 3rd leader. And never fight the bartender if you're low on recovery items.
Community content is available under
CC-BY-SA
unless otherwise noted.